VOC's Travel BLOG
Our Travel Blog is where we share our real life travel experiences with you. We also provide information on Chinese culture, Chinese cuisine, and much more. We hope that this information helps you in some way, whether it be in designing a China tour, or just gives you interesting information on a new and exciting place.
Painted Guilin in winter
2012-01-06 | Life in Guilin | Comments(2) Views (235)
The winter in
Guilin
fells with rain finally in December. The sharply dropping temperature (4 Celsius degree) at the last week of the month colored some trees such as maples and maidenhair trees and is decorating the city with colorful leaves. Thank goodness, it cleared up again and a blue sky of spring contrasted vividly with the leaves, creating an extraordinarily beautiful scene. To catch the masterpieces of the nature, I went out to take some pictures of that specially.
(Photo: Guilin is covered with orange sun lights of the rising sun in the morning.)
(Photo: On both sides of the Fuxing Road (辅星路) lines of maidenhair tree are planted.)
(Photo: Beautiful maples on the Longyin Road (龙隐路) in Sanlidian (三里店).)
(Photo: Many shutterbugs are attracted to the Seven Star Park (七星公园) to record the beauty of the leaves.)
(Photo: Vendors selling color-printed balloons, water chestnut puddings and cotton candy in front of the Seven Star Park.)
--- By Lu Yaoyun (Visit Our China)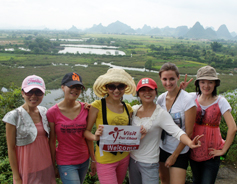 Categories