Your Position:
Home
VOC's Travel BLOG
VOC's Travel BLOG
Our Travel Blog is where we share our real life travel experiences with you. We also provide information on Chinese culture, Chinese cuisine, and much more. We hope that this information helps you in some way, whether it be in designing a China tour, or just gives you interesting information on a new and exciting place.
2012-11-09 | China Food | Comments(0) | Views:(267)
For people on a highland rising three to four thousand meters above sea level, there is no more festival thing than harvesting. In China, on the roof of the world, Qinghai-Tibet Plateau, Yarlung Tsangpo River dashes out of snowy mountains to the bottom of South Tibet, nourishes the most flourishing farm belt of Tibet - Shigatse. Generations of Tibetan have been here planting highland barley, their staple food. By virtue of nutrition and energy given by highland barley, they doggedly survived in this untraversed highland.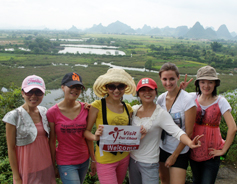 Categories