Your Position:
Home
VOC's Travel BLOG
China Travel Blogs
The China travel blog page of VisitOurChina is where we share our travel experiences with you. In the meantime, we provide you information on Chinese culture, Chinese cuisine, China travel guide and much more. We hope these can help you in some way, whether they are used in designing a China tour, or just give you interesting information on a new and exciting place.
2011-04-01 | China travel Guide | Comments(0) | Views:(2051)
Taohua Island (Peach Blossom Island)... This name sounds like a dream full of expectations. Being the second place I visited in China, this is important for me to present it to you as I was literally speachless in front of its beauty. The "Peach Blossom Island", Tao Hua Dao (桃花岛) in Mandarin Chinese, is part of the Zhoushan (舟山) archipelago located in northeastern Zhejiang Province (浙江省). The island south of the biggest Zhoushan island one (Dinghai Island), just represents 42 squeare kilometers but is a marvel of botanical diversity, lush sceneries of natural rich flora and fauna.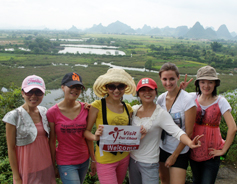 Categories