Your Position:
Home
VOC's Travel BLOG
China Travel Blogs
The China travel blog page of VisitOurChina is where we share our travel experiences with you. In the meantime, we provide you information on Chinese culture, Chinese cuisine, China travel guide and much more. We hope these can help you in some way, whether they are used in designing a China tour, or just give you interesting information on a new and exciting place.
2013-09-06 | China travel Guide | Comments(0) | Views:(518)
Brief Introduction to the most unique travel attractions of China.
Shuhe is known to local people as Longquan Village (Dragon Spring Village, 龙泉村) which is said to be the birthplace of the eminent Mu Family of Naxi minority ethnic group. Renowned as "Village of Leather", the Old Town of Shuhe has a prosperous market in the central square covering an area of 250 square meters which used to be fur and leather trading center in Lijiang and has many excellent artisans that good at fur and leather processing.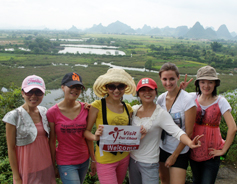 Categories