Your Position:
Home
VOC's Travel BLOG
China Travel Blogs
The China travel blog page of VisitOurChina is where we share our travel experiences with you. In the meantime, we provide you information on Chinese culture, Chinese cuisine, China travel guide and much more. We hope these can help you in some way, whether they are used in designing a China tour, or just give you interesting information on a new and exciting place.
2012-06-11 | China travel Guide | Comments(0) | Views:(418)
My friend Winnie recently joined a tourist group and went to her dream land, Shangri-La. When she shared her feelings and photos with me, my tidy of thoughts and feelings fully flows out. Actually, since I saw a picture of Shangri-La in my second year at university, I have been dreaming of there. The blue sky and white clouds make it an extraordinary pure land. Recently, a mouthwatering food Matsutake which appeared on the hot documentary A Bite of China increased my curiosity for Shangri-La. What she experienced in Shangri-La inspired me to write down this article.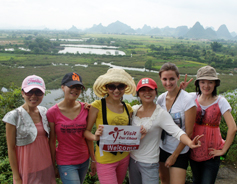 Categories