China tours to Xi'an
Xian, the capital of China's Shaanxi Province is extremely famous for the Terracotta Warriors which guard the tomb of China's first emperor, Qin Shi Huang. The city was China's capital for over ten dynasties and has been inhabited for over 3,100 years. Xian has a temperate climate, making it comfortable all year, although summer can get a little hot. The city has a well developed tourist infrastructure and is a transportation hug. It is home to an amazing array of sites to thrill visitors of all interests. Many exciting sites are awaiting your discovery on any one of our Xian tours. More information about Xi'an
Tour Code:CCT02
Duration:10 Days
Destinations:Beijing, Xi'an, Guilin, Shanghai
This Classic tour takes you to some of China's most exciting places. You can discover the imperial majesty of Beijing in its famous Forbidden City and Great Wall. In Xian, you can see the incredible Terracotta Warriors. Guilin's world famous scenery will take your breath away. In Yangshuo, you can explore boutiques and cafés catering to your every wish. Shanghai is an incredible cosmopolitan metropolis where Eastern and Western cultures blend beautifully, in a way like nowhere else on Earth.
Tour Code:TET01
Duration:11 Days
Destinations:Beijing, Lhasa, Xi'an, Shanghai
This Tibet tour visits some of the most popular places in China. You will begin in Beijing, China's capital for more than 500 years, where you will see such sites as The Forbidden City, The Great Wall, and the main stadiums for the 2008 Beijing Olympics. You will then travel to Lhasa, the capital of Tibet. You will witness the culture, architecture, and natural beauty that have made it a dream destination for so many years. You will then visit Xian, home to the Terracotta Warriors, and the ancient, yet modern metropolis of Shanghai.
Tour Code:CWHT04
Duration:19 Days
Destinations:Beijing, Xi'an, Lhasa, Chongqing, YangtzeCruise, Yichang, Shanghai

This 19 day World Heritage tour highlights the history, art, culture, and people of China. It is a truly wonderful way to see this ancient country. You will visit Beijing, China's capital for over 500 years, Xian, home to the Terracotta Warriors, Chongqing, home to the giant panda and fiery Szechwan cuisine, Shanghai, the modern metropolis, Lhasa, home to Tibet's mysterious culture, and you will cruise the Yangtze River, and experience the Three Gorges from a luxurious cruise ship.
Tour Code:SK01
Duration:15 Days
Destinations:Beijing, Urumqi, Turpan, Jiayuguan, Dunhuang, Lanzhou, Xi'an, Shanghai

With this tour, you will have a quick glimps of the Silk Road, Start from Beijing, see the must see Great Wall, Forbidden City, etc. then fly to Urumqi, head to Jiayuguan, Dunhuang, Lanzhou and Xian, you will see the all major towns and the mysterious sights on the Silk Road. Finally, the tour end in Shanghai and you will return back to the modern city.
Tour Code:CCT22
Duration:12 Days
Destinations:Beijing, Chengdu, Xi'an, Guilin, Shanghai, Hong Kong
This classic China tour presents you almost all the impressions you may have about China image. For example the Great Wall, Giant Panda, Terracotta Army and Horses, Li River, The Bund, Hong Kong, etc. It is a great tour for family travel, and will leave you wonderful memories with your family meanwhile give your kids a once-in-a-lifetime trip to China.
Custom Tailoring: Design your own tour with our help to meet your unique interests. You don't have to compromise. Do exactly what you want to do! Let us assist you to tailor-make your own China experience.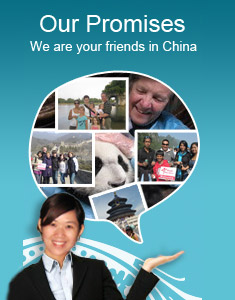 Popular City Tours