Question & Answer
Warmly welcome to China with us! We are very glad to provide you with some practical information for you to get some general ideas of China before you come to visit China. The following are some basic information for your China trip, we hope it would be useful and you will enjoy your stay in China. If the information what you need is not covered below, please feel free to contact us: contact@visitourchina.com, phone at +86-773-5833156, or fax at +86-773-5817771
Generally, staple food in China includes rice, wheat, buckwheat, corn, potato, sweet potato and beans. Besides, wheaten food such as Mantou (steamed bun), noodle, Youtiao (deep-fried dough stick), Xiaolongbao (steamed pork-stuffed dumpling in bamboo basket), and many other local snacks, are commonly seen on the table in China.
The guides and the drivers will not have meals with you at the same table, but at the same restaurant.
Generally, we only order lunch with local cuisines for our customers, and for dinner, you should arrange it by yourselves. If you would like to order your own dishes during the trip, please tell us and we will cancel the arrangement for you as per your requests.
Yes, we can arrange vegetarian food for you if you would like, but please let us know beforehand so that we have enough time to arrange it.
Breakfasts are included in each destination as long as we book hotels for you.
Usually, a western breakfast consists of western style buffet with juice, milk, eggs, sausage, bacon and bread, while a Chinese one will include a number of hot dishes such as noodles, porridge, vegetables, cereals, and Chinese dim sum plates.
We will carefully arrange meals for you as per your special diet and will check them with you beforehand to ensure that all of the food during the tour is ok for you.
About Our Company
China Travel Resources
What Our Customers Say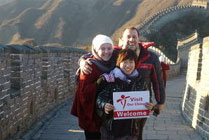 Thank you for your follow-up email. I must commend your team as well as our guide and driver for their excellent service and job done. My young son felt at home with her, and she went out of her way to take care of him and entertain him during the trip. She was also very knowledgeab...
Read more testimonials...