China Travel Tips
A China tour is a wonderful experience, one that you will never regret, but there are some common questions we frequently refused and we wanted to offer answers to those questions, as well as offer some tips that we feel will help make your tour of China even better. If you have any questions about any of our tips, or anything whatsoever, please feel free to contact us and we will do our best to answer all questions you may have.
Currency
In China, the following currencies from 16 countries and regions can be converted into Chinese RMB:
British Pound Sterling (GBP), Hong Kong dollar (HKD), US dollar (USD), Swiss franc (SFr), Singapore dollar (S$), Swedish krona (Skr), Danish krone (Dkr), Norwegian krone (Nkr), Japanese yen (Y), Canadian dollar(Can$), Australian dollar (A$), Euro (EUR), Macau Pataca (MOP), Philippine Peso (PHP), Thai Baht (THB) and Korea Won (KRW).
For the most favorable rates, change money at banks. You won't do as well at exchange booths in airports or rail and bus stations, in hotels, in restaurants, or in stores, although you may find their hours more convenient.
So far the following foreign credit cards are acceptable in China: Master, Visa, American Express, JCB, Diners.
Note: You cannot obtain Chinese currency outside of China, and you cannot exchange it back into foreign currency outside of China.
Customs Regulation and Habits in China
Customs Regulation: You will receive a short customs checking form either in the airplane or in the terminal on landing. If you bring more than US$10,000 cash to China, you must register it. Live animals, fresh product, and printed matter deemed seditious or pornographic are not allowed to be imported. The deemed seditious or pornographic printed matter, of course, is very broadly defined, including anything that criticizes the Chinese government. Customs officials do not usually inspect your personal baggage for improper reading matter, but it could happen. You'd better, for example, not bring books by Chinese dissidents. Customs inspection is usually fast and painless, unless you're suspected of bringing the above mentioned items.
When departing from China, you are not allowed to take out over-150-year-old Chinese antiques and deemed valuable items to China. Additional customs information is available from: http://www.customs.gov.cn.
Habits and Customs of China: In China, people should walk along the right side of the road. Please respect the habits and customs of the nationality in China. For example, some nationality does not have pork as dinner. Before visiting ethnic and religious attractions, please check out some relative information first.
Holidays and Business Hours in China
China Public Holidays:
Click here for our 2014/2015 holiday calendar
Chinese festivals are wonderful and can be a great time to visit China, but there are some considerations necessary when traveling during China's holidays. During some festivals, in particular, Spring Festival and National Holiday, most tourist spots can be very crowded, and hotels and many restaurants are more expensive and hotel rooms can be limited.
Visit Our China Business Hours:
Our company follows the five-day week system, like most of the companies in China. Our working hours are 9:00am to 6:00pm with a lunch break from 12:00pm to 2:00pm. Generally, banks, offices, government departments, and police stations (known as Public Security Bureaus or PSB) are open Monday to Saturday. Most open between 8 and 9 AM, close for lunch from noon to 2 PM, and reopen until 5 or 6. Many branches of the Bank of China and stores catering to foreigners are open Sunday morning. Some close on Wednesday afternoon. Museums are open 9 to 4 six days a week. Most businesses are closed on Chinese New Year and other major holidays.
Accomodation, Food and Transportation
Usually, hotels and food can be easily found around airports and train stations. There are lots of taxies and buses there as well. In most of China, few people speak English, including most taxi drivers. In larger hotels and their restaurants, you can generally find English speaking employees to help you. It can be hard to navigate China on your own due to the language barrier. We highly recommend that you take a business card from each hotel you stay at. The back will have a map to the hotel and if you go out on your own, you only need to show it to a taxi driver and they will be able to take you back to your hotel. If you wish to go out, you can talk to your hotel's concierge and ask them to write the names of the sites, or even food preferences on a piece of paper for you, so you can show them to hotels and waitresses. Most hotels will have Western dishes, but most restaurants in China, unless they are specifically Western restaurants, will not have Western dishes. It is also important to not underestimate the communication power of gestures. Most servers and business people want your business and will patiently work with you to try to understand your meaning.
Electricity
To use your U.S.-purchased electric powered equipment, please bring a converter and adapter. The electrical current in China is 220 volts, 50 cycles alternating current (AC); wall outlets take American-style plugs, with two flat parallel prongs; however they may not take the converter's one oversized prong, used for grounding, as generally used in the United States.
If your appliances are dual-voltage, you'll need only an adapter. Don't use 110-volt outlets, marked "For Shavers Only," for high-wattage appliances such as blow-dryers. Most laptops operate equally well on 110 and 220 volts and so require only an adapter.
Clothing Suggestions:
China is a very large country with many climate zones, so it is very important to bring the proper clothing to meet your need as you travel across China on your China tour. The Northern provinces can be extremely cold and will always be colder than the south of China, which generally is quite warm. When traveling in the fall and spring, it is important to bring heavy and thin clothing, because it will be cold in the north and on top of any mountains you might visit, yet still quite warm in the Southern provinces. Shoes are also a very important consideration when traveling in China. Many areas, such as mountains, and villages might have fairly primitive paths, so it is important to bring shoes that are very comfortable and will allow you to walk all day in them. If you wish to bring dress shoes for evenings, that is fine, but please remember comfortable shoes for the day.
Weather Precautions:
As reported above, China has a large variety of climate zones, from desert, to tropical, so it is important to be prepared for all weather conditions on your tour.
Health:
Diarrhea is a concern for travelers in China. It can be caused by eating contaminated fruits and vegetables or drinking contaminated water. It is important that any fruit eaten raw are cleaned very well and peeled. Even grapes need to be peeled. Contaminated water is a major cause of diarrhea, so stay away from ice, uncooked food, and unpasteurized milk and milk products. It is recommended that you drink only bottled water or water that has been boiled for at least 20 minutes. Bottled water is widely available throughout China, even in the countryside. As a precaution, it is recommended you bring water purification tablets, just in case you cannot find bottled water in some of the more remote areas of China. Mild cases of diarrhea may respond to Imodium (known generically as loperamide) or Pepto-Bismol (not as strong), both of which can be purchased over the counter. Do NOT buy prescription drugs in China, as its quality control is unreliable. Ask your doctor for an anti-diarrheal prescription to take with you. Drink plenty of purified water or chamomile tea is a good folk remedy. In severe cases, rehydrate yourself with a salt-sugar solution (1/2 teaspoon salt and 4 tablespoons sugar per quart of water).
Pneumonia and influenza are concerns among travelers to China. It is recommended that you get inoculations for both before you leave home. Be sure you're well rested and healthy to begin with. According to the National Centers for Disease Control (CDC) there is limited risk of hepatitis A and B, typhoid, polio, malaria, tuberculosis, dengue fever, tetanus, and rabies in small cities and rural areas. In most urban or easily accessible areas you need not worry. However, if you plan to visit remote regions or stay for more than six weeks, check with the CDC's International Travelers Hotline. In areas where malaria and dengue, both of which are carried by mosquitoes, are prevalent, use mosquito nets, wear clothing that covers the body, apply insect repellent containing DEET, and use spray for flying insects in living and sleeping areas. Also consider taking anti-malaria pills.
Medication:
It is extremely important that you bring enough prescription medication to last your entire China tour! You will not be able to refill prescriptions once in China, so please bring what you will need for your stay.
Small Items:
Many people bring a lot of items with them that are unnecessary. Items like towels, shampoo, soap, combs, and even chopsticks will be available in your hotel rooms, and if you wish, you can easily purchase them in China for less than it would cost to buy them at home, and these items take up precious space in suitcases and add unnecessary weight.
Emergencies & Telephones:
The country code for China is 86. The area code for Guilin is 773. When making a long-distance call, do not drop the initial 0 from the local area code (as was formerly the procedure).
Ambulance (PHONE: 120).
Police (PHONE: 110).
Fire (PHONE: 119)
(Note: you can also dial 110 for ambulance, police and fire police)
Information (PHONE: 114)
Taxi (PHONE: 4644818)
Tourists Assistance (PHONE: 0773 5833156)
Weather: 121
Main Embassies in Beijing:
The country code for China is 86. The area code for Guilin is 773. When making a long-distance call, do not drop the initial 0 from the local area code (as was formerly the procedure).
U. S. A (2 Xiushui Dongjie, Chaoyang District, tel. 010/6532-3431 ext. 229 or 010/6532-3831 ext. 264, fax 010/6532-2483).
Australia(21 Dongzhimenwai Dajie, Chaoyang District, tel. 010/6532-2331, fax 010/6532-3101).
Canada (19 Dongzhimenwai Dajie, Chaoyang District, tel. 010/6532-3536, fax 010/6532-4972).
U.K. (11 Guanghua Lu, Chaoyang District, tel. 010/6532-1961, fax 010/6532-1937).
To learn more information, please visit http://www.embassiesinchina.com/ .
About Our Company
China Travel Resources
What Our Customers Say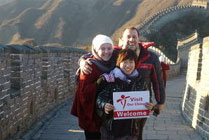 Hi Gina, Well we arrived home today, safe and well. We really want to thank you for the lovely dinner we had with you and Tina in Guilin and I want to thank you for the beautiful tea sets. I will put them to good use making the Chinese tea that I bought in Shanghai. As promised, I am writ...
Read more testimonials...