China Food Tours
The food cultural of China has enjoyed long history with distinct regional features. This tour will feast both your stomach and eyes. Sweet Zhejiang Cuisine, salt Shandong Cuisine, spicy Sichuan Cuisine, Guangdong Cuisine...Every taste is available here!
Tour Code: CFT01
Duration: 16 Days
Destination: Beijing, Qufu, Jinan, Shanghai, Hangzhou, Xi'an, Chengdu, Guilin, Guangzhou


During this tour, you can taste four of the "eight cuisines" of China, including Shandong Cuisine (in Qufu), Sichuan Cuisine (in Chengdu), Guangdong Cuisine (in Guangzhou), Zhejiang Cuisine (in Hangzhou). What's more, you will have a taste of the legendary Peking Duck (of Beijing), Chinese Hamburger (of Xi'an), Beer Fish (of Guilin) and have a special shopping experience in bustling Shanghai. It must be a wonderful China overall culinary tour which should not be missed!
Tour Code: CFT02
Duration: 10 Days
Destination: Beijing, Xi'an, Shanghai


Have been long converted by Peking Duck of Beijing, Chinese Homburg of Xi'an,and the local cuisine of Shanghai? In this tour, you must discover more! And by taking cooking classes, you will enjoy the process of making Chinese food. Join us to experience the adventure now!
Tour Code: CFT03
Duration: 10 Days
Destination: Beijing, Shanghai, Suzhou, Hangzhou, Guangzhou


All the cuisines of China can be tasted during this tour, including Fujian Cuisine, Anhui Cuisine, Zhejiang Cuisine, Shandong Cuisine, Jiangsu Cuisine, Hunan Cuisine, Sichuan Cuisine, and Guangdong Cuisine. Besides, it is also a good opportunity to enjoy the authentic Beijing and Shanghai gourmet. Tempting, ha?
Tour Code: CFT04
Duration: 5 Days
Destination: Beijing


Peking Roast Duck is undoubtedly the representative food of Beijing gourmet. But the cuisine of Beijing is more than it! In this tour, Mongolian Hotpot dinner will be a good feast. And strolling experience around the food market of Beijing and tasting of the authentic Beijing local food will surely provide you an unforgettable Beijing gourmet impression!
Tour Code: CFT05
Duration: 4 Days
Destination: Shanghai


As the "shopping paradise", Shanghai is also a gourmet kingdom. Shanghai local food, such as Shi Zi Tou and Shanghai dumplings, are worth tasting. What's more, authentic Sichuan Cuisine can also be enjoyed in Shanghai. Why not have a try!
Show More China Food Tours
Custom Tailoring: Design your own tour with our help to meet your unique interests. You don't have to compromise. Do exactly what you want to do! Let us assist you to tailor-make your own China experience.
Search China Tours
What Our Customers Say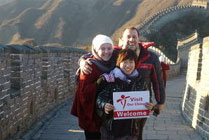 In a nutshell, you did a great job, a fantastic job! We are truly glad that we chose you to make all the arrangements for our Chengdu Xi'an trips. You did not disappoint; indeed, you surpassed our expectations. Bravo, Gina! Truly well done! For more detailed thoughts, you'd need to give me a lit...
Read more testimonials...