China World Heritage Tours
China is full of world heritages, nearly all Chinese provinces contain famous heritages all over the world, there are already many places being visited by our customes everyday and more and more sites are being accepted and known to all,enjoy our special valued world heritage tours here.
Tour Code: CWHT04
Duration: 19 Days
Destination: Beijing, Chongqing, Lhasa, Nagqu, Shanghai, Xi'an, Yichang
Our Itinerary & Price Details.
Features: 19 days tour to feel our world heritage and highlight sights in China to historical and world famous capital of Beijing, home of the Terra Cotta Warriors Xi'an, Chongqing, the paradise of Chinese panda, and Shanghai, the symbolic city of modern China. The splendid Yangtze river cruise from Chongqing to Yichang is also included, enjoy our China, feel the heritage and remember the tour.
Tour Code: CWHT01
Duration: 16 Days
Destination: Beijing, Chengde, Datong, Pingyao, Shanghai, Taiyuan, Xi'an
Our Itinerary & Price Details.
Features: It is a fabulous journey to the destinations associated with the highlights of World Heritage Sites in the north of China. The dense northern culture will give you deep impression. This route is definitely different with common itinerary.
Tour Code: CWHT02
Duration: 16 Days
Destination: Anyang, Beijing, Luoyang, Shanghai, Shiyan, Wuhan, Xi'an, Zhengzhou
Our Itinerary & Price Details.
Features: This tour we take you to some of the best and most diverse of China's cultural heritages. You will have the opportunity to the most important and charming historical cities in China, where you will visit many historical wonders, beautiful ancient Chinese architectures and the cradle of Chinese Shaolin Kung fu - the Shaolin Temple.
Tour Code: CWHT03
Duration: 15 Days
Destination: Anyang, Beijing, Jinan, Luoyang, Qufu, Shanghai, Taian, Xi'an, Zhengzhou
Our Itinerary & Price Details.
Features: Ancient cultures and modern China will be found here. Great capital,Shaolin temple, Confucius site,Chinese mother river of the Yellow River......by scheduling visit to places of hometown,you will not only enjoy our would famous cities of Beijing,Xi'an and Shanghai, but also other heritage sites around the Yellow river.
Tour Code: CWHT06
Duration: 16 Days
Destination: Guangzhou, Guilin, Hong Kong, Macao, Shanghai, Suzhou, Wuyishan, Xiamen, Yangshuo
Our Itinerary & Price Details.
Features: This tour covers Hong Kong, Macau, Guangzhou,Guilin Xiamen and its surrounding areas such as Wuyishan. You will see particular folk residences such as Kaiping blockhouse and Yongding Hakkas'residential building "Tulou". Xiamen and its surrounding countryside provide spectacular scenery and pleasant tree-lined beaches. The Wuyishan entered UNESCO's list of World Heritage Sites, both natural and cultural.
CWHT05-
21 Days World Heritage Sites with Minority Exploration Tour
Destination: Beijing, Chengdu, Dali, Emeishan, Guilin, Hong Kong, Kunming, Leshan, Lhasa, Lijiang, Macao, Xi'an, Yangshuo
Custom Tailoring: Design your own tour with our help to meet your unique interests. You don't have to compromise. Do exactly what you want to do! Let us assist you to tailor-make your own China experience.
Search China Tours
What Our Customers Say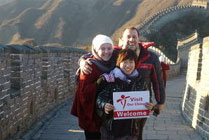 Dear Gina ! Now a week since we came back home, I have the honor writing you our impression and experience about The tour that you and Visit Our China team organized for us. My and all other have no enough words to thanks you for the successfully trip! Your treatment and your attention to...
Read more testimonials...