RMB Bank Notes Tours
Are you curious about the sceneries on the Chinese RMB Bank Notes? Great Wall, People's Congress Hall, Li River of Guilin, West Lake... You can explore these attractions and the cities during this tour, cool!
Tour Code: BNT01
Duration: 20 Days
Destination: Beijing, Lhasa, Chongqing, Yangtze, Yichang, Wuhan, Guilin, Yangshuo, Hangzhou, Shanghai


This tour will show you the real selected sciences on the back of the fifth series of Chinese RMB Banknotes, covering the old capital city Beijing (the People's Congress Hall on 100 Yuan), mysterious Lhasa (the Potala Palace of Lhasa on 50 Yuan), grand Yangtze River (the Qutang Gorge of the Yangtze Three Gorges on 10 Yuan), Guilin (the Yangshuo picturesque landscape on 20 Yuan), Hangzhou (the West Lake of on 1 Yuan) as well as four other popular tourist destinations – Chongqing City , Yichang City, Wuhan City and Shanghai City. By taking this mixed-flavor tour, you will have a perfect experience in touching and knowing a real China...
Tour Code: BNT02
Duration: 11 Days
Destination: Beijing, Guilin, Yangshuo, Hangzhou, Shanghai


This tour is comprised of the itinerary of capital of China (Beijing) and Chinese Water Town (Guilin, Hangzhou, Shanghai). During this leisure tour, you will surely attracted by the beautiful natural sceneries in China, no wonder why them were chose to be the fifth series of the RMB note sceneries.
Tour Code: BNT03
Duration: 14 Days
Destination: Shanghai, Yichang, Yangtze River Cruise, Chongqing, Lhasa, Beijing


Yangtze River, the third longest river in the world, is the cradle of Chinese civilization. Enjoying the Chinese RMB Note Tour with classic Yangtze River Cruise must be a great fun. At the same time, you can also visit Shanghai, Lhasa, Beijing and Chongqing to have a general impression of China.
Tour Code: BNT04
Duration: 14 Days
Destination: Shanghai, Guilin, Yangshuo, Chongqing, Lhasa, Beijing


This tour will brings you to Guilin, Chongqing, Lhasa and Beijing, providing you a chance to appreciate and compare the sceneries on the back of Chinese RMB banknotes and the real sites, you will be immerged in the sights of different styles; in addition, some other must-sees in China have also been selected as parts of this trip, e.g. Summer Palace, Temple of Heaven and Forbidden City in Beijing, Pandas Room in Chongqing Zoo, Three Gorges Museum in Chongqing, Seven Star Park in Guilin...
Show More RMB Bank Notes Tours
Custom Tailoring: Design your own tour with our help to meet your unique interests. You don't have to compromise. Do exactly what you want to do! Let us assist you to tailor-make your own China experience.
Search China Tours
What Our Customers Say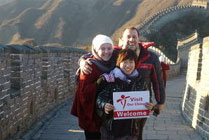 In a nutshell, you did a great job, a fantastic job! We are truly glad that we chose you to make all the arrangements for our Chengdu Xi'an trips. You did not disappoint; indeed, you surpassed our expectations. Bravo, Gina! Truly well done! For more detailed thoughts, you'd need to give me a lit...
Read more testimonials...