Your Position:
Home
VOC's Travel BLOG
China Travel Blogs
The China travel blog page of VisitOurChina is where we share our travel experiences with you. In the meantime, we provide you information on Chinese culture, Chinese cuisine, China travel guide and much more. We hope these can help you in some way, whether they are used in designing a China tour, or just give you interesting information on a new and exciting place.
2011-05-16 | China travel Guide | Comments(0) | Views:(1913)
Travel, travel, travel…what a nice feeling, right? Every traveler looking for some large-scale and entertaining break has this restless feeling prior to their trip: where to go? What to see? Which hotels? Flights? ... You all know what I am talking about: excitement! Of course you have to get informed on the destinations you chose for enjoying the tour at its best point and be prepared for the sightseeing you are going to see, but this is not everything about travel, life is not written in a book! "Reading ten thousand books equals traveling ten thousand meters" is what I am talking about. Let's get it started, live your life now and enjoy it for travel broadens the mind, relieves and even cultivates it. The best medicine I have ever taken so far!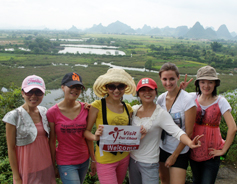 Categories