Your Position:
Home
VOC's Travel BLOG
China Travel Blogs
The China travel blog page of VisitOurChina is where we share our travel experiences with you. In the meantime, we provide you information on Chinese culture, Chinese cuisine, China travel guide and much more. We hope these can help you in some way, whether they are used in designing a China tour, or just give you interesting information on a new and exciting place.
2011-05-09 | China travel Guide | Comments(0) | Views:(711)
I think everyone wants to take a real Eat Pray Love adventure across the world and finally probably would find themselves are the final destination just like the woman in this movie. I always puzzle for the reason why this movie is so inspiring, surely it not just simply tells a journey story that a woman spent a year searching for everything taking her to eat, pray and love and meantime give us, the audience so many ideas about amazing different recommendations of where to eat, pray and love around the world, just like a commentator said that, this movie brings us that feeling of wanting to let go, self indulge and take the time to really figure out, who am I? Sorry, in this case, Eat Pray Love is really a philosophic course that I definitely can't handle, as a travel advisor, all I can do for you is to share with you some good experience, and here is the one about Eat.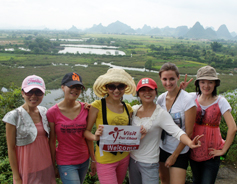 Categories