Ethnic Minority Tours
China is a unified nation consisting of many different ethnic groups. Fifty-six different ethnic groups make up the great Chinese national family. Explore Yunnan Provence to see the Dai, Miao and Yao, or Guizhou Provence to see the beauty of the Dong or Buyi. Find the special culture of the largest ethnic group in China, the Zhuang in Guilin.
Custom Tailoring: Design your own tour with our help to meet your unique interests. You don't have to compromise. Do exactly what you want to do! Let us assist you to tailor-make your own China experience.
Search China Tours
What Our Customers Say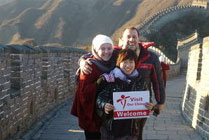 Below are my responses to your questions: 1. The guide was the best part of this trip, he did very well. 2. The driver did his job as expected however I feel like the guide could do this job as well to avoid hiring two people. 3. The breakfast was not that great. T...
Read more testimonials...