Ethnic Minority Tours
China is a unified nation consisting of many different ethnic groups. Fifty-six different ethnic groups make up the great Chinese national family. Explore Yunnan Provence to see the Dai, Miao and Yao, or Guizhou Provence to see the beauty of the Dong or Buyi. Find the special culture of the largest ethnic group in China, the Zhuang in Guilin.
Custom Tailoring: Design your own tour with our help to meet your unique interests. You don't have to compromise. Do exactly what you want to do! Let us assist you to tailor-make your own China experience.
Search China Tours
What Our Customers Say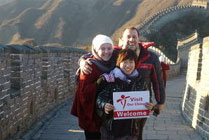 Dear Gina, Thank you so much for this email! I was going to email you to say THANK YOU for planning such a wonderful trip for me! The drivers were very good. My driver from Beijing airport waited an hour for me and was very patient. I paid him for hotel and one day tour, he offered re...
Read more testimonials...