Your Position:
Home
China guide
China Travel Guide
China has one of the most exciting cultures on Earth. Our China guide will allow you to see some of the culture, sites, cities, photos, and China travel news that we offer on our China tours. This China guide will allow you to learn more about the amazing things you can see in China and help you prepare for your tour of China. As always, you may feel free to contact us and ask us any questions you might have about China or our China tour packages.
Custom Tailoring: Design your own tour with our help to meet your unique interests. You don't have to compromise. Do exactly what you want to do! Let us assist you to tailor-make your own China experience.
China Overview
Capital: Beijing
Population: 1.3 billion
Location: Eastern Asia, on the western shore of the Pacific Ocean
Square: 9.6 million square kilometers
China is the cultural treasure-house of East Asia. Its 5,000 years of turbulent history and culture rank it one of the world's greatest travel destinations.
What Our Customers Say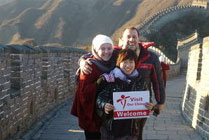 Below are my responses to your questions: 1. The guide was the best part of this trip, he did very well. 2. The driver did his job as expected however I feel like the guide could do this job as well to avoid hiring two people. 3. The breakfast was not that great. T...
Read more testimonials...