Your Position:
Home
China guide
China Travel Guide
Our travel guide provides you information and resources about China-one of the most exciting countries in Asia. In addition to some essential information related to China Cities and Attractions, Our China Travel Guide also introduce some China tour highlights, customer reviews, cultures and photos. We try to bring both open-minded and local-perspective current issues about China. .
Custom Tailoring: Design your own tour with our help to meet your unique interests. You don't have to compromise. Do exactly what you want to do! Let us assist you to tailor-make your own China experience.
China Overview
Capital: Beijing
Population: 1.3 billion
Location: Eastern Asia, on the western shore of the Pacific Ocean
Square: 9.6 million square kilometers
China is the cultural treasure-house of East Asia. Its 5,000 years of turbulent history and culture rank it one of the world's greatest travel destinations.
What Our Customers Say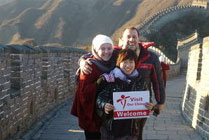 Dear Gina ! Now a week since we came back home, I have the honor writing you our impression and experience about The tour that you and Visit Our China team organized for us. My and all other have no enough words to thanks you for the successfully trip! Your treatment and your attention to...
Read more testimonials...