Chengdu Tours
Chengdu is the capital city of the Sichuan Province, located in the South-central part of China. Similarly known as Chengtu, the city is a major transportation and economic hub to Southwest China and enjoys a great historical past mingled with rich natural features that rank it today as one of China's best tourist city. As part of a mountainous area set in the so-called Tian Fu Zhi Guo (天府之国) meaning the country of heaven or land of abundance, Chengdu is one of the rare Chinese cities that never changed name during its history. Compared to a brocade and hibiscus city, Chengdu... Visit Our Chengdu Travel Guide
Tour Code:CTCD06
Duration:2 Days
Attraction:Wuhou Memorial Temple,Chengdu Research Base of Giant Panda Breeding,Jinli Street,People's Park

Tour Code:CTCD04
Duration:4 Days
Attraction:Dujiangyan Irrigation System,Wuhou Memorial Temple,Chengdu Research Base of Giant Panda Breeding,Dufu's Thatched Cottage,Sanxingdui Ruins,Mt. Qingcheng

Tour Code:CTCD01
Duration:5 Days
Tour Overview:Visit the world's largest panda reserve, the world's tallest Buddha statue

Tour Code:CTCD03
Duration:5 Days
Attraction:Leshan Giant Buddha,Mount Emei,Chengdu Research Base of Giant Panda Breeding,Dufu's Thatched Cottage,People's Park

Tour Code:CTCD02
Duration:6 Days
Tour Overview:6 Day Luxury Tour of Chengdu - Leshan - Huanglong - Jiuzhaigou - Chengdu: Enjoy the world's largest panda reserve, the world's tallest Buddha statue, one of China's four holy and also Jiuzhaigou Valley Scenic and Historic Interest Area and Huanglong are in this round trip.You can experience the beautiful natural scenery there.

Tour Code:CTCD05
Duration:5 Days
Attraction:Wuhou Memorial Temple,Chengdu Research Base of Giant Panda Breeding,Jinli Street,Dufu's Thatched Cottage


Custom Tailoring: Design your own tour with our help to meet your unique interests. You don't have to compromise. Do exactly what you want to do! Let us assist you to tailor-make your own China experience.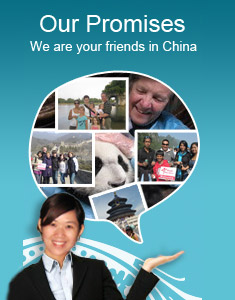 Popular City Tours