Guangzhou Tours
Guangzhou is the capital city of the Guangdong Province, South China and a worldly famous economic, gastronomic and tourist halt city. Also known as Canton, this major Chinese city influenced by the nearby Hong Kong and Macao is somewhat the first city travelers to China will visit, just like Beijing or Shanghai. The city is indeed located in the north of the Pearl River Delta and enjoys a monsoon sub-tropical climate. Recognised as a high trading center, Guangzhou is also a busy port and an important city that influences the whole country's economy. The sprawling urbaniz... Visit Our Guangzhou Travel Guide
Tour Code:CTGZ01
Duration:2 Days
Tour Overview:Guangzhou, located at the north of the Pearl River delta, is an important trading center as well as a busy port and the capital city of the province of Guandong .Guangzhou is also one of the most important centers of foreign commerce in South China. The Chinese Export Commodities Fair has been held twice a year in the city since 1957. It is also a cultural center......


Tour Code:CTGZ02
Duration:3 Days
Attraction:Sun Yat-sen Memorial Hall,Ancestral Temple of the Chen Family,Temple of Six Banyan Trees,Western Han Nanyue King Tomb Museum


Show More Guangzhou Tours
Custom Tailoring: Design your own tour with our help to meet your unique interests. You don't have to compromise. Do exactly what you want to do! Let us assist you to tailor-make your own China experience.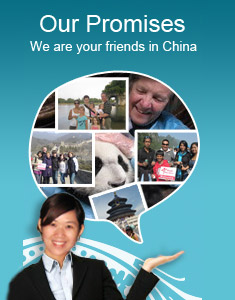 Popular City Tours