China Photography Tours
Want to take the China impression home for momerizing, or sharing with others? Come to join the China Photography Tours! Wish your China tours could also become your lifelong worth-tasting memory.
Tour Code: CPT01
Duration: 10 Days
Destination: Beijing, Huangshan, Yixian County, Wuyuan, Shanghai


This photo tour will show you the grandest historic relics in Beijing with Temple of Heaven, Tiananmen Square, Forbidden City, Summer Palace, Great Wall, and tremendous sights of Yellow Mountain, landscape-painting-like villages in Anhui Province and Jiangxi Province, and the biggest and most flourishing metropolis of China – Shanghai including Shanghai Museum, Yu Garden, Oriental Pearl Tower, The Bund and Nanjing Road… You will get nothing but a visual surprise by it!
Tour Code: CPT02
Duration: 11 Days
Destination: Guiyang, Kaili, Leishan, Zhaoxing, Sanjiang, Longsheng, Guilin, Yangshuo


You will immerse yourself into the unique and mysterious culture of Miao, Shui and Dong minorities living in Southwest China, there you can find how the minority people live their common life as well as enjoy the peaceful nature; and the picturesque landscapes in Guilin will greatly surprise you if this is your first time there – it is no doubt that you will reap both a good material of photography and a feeling of leisure and relaxation in this heaven on earth...
Tour Code: CPT03
Duration: 12 Days
Destination: Kunming, Jianshui, Yuanyang, Dali, Lijiang, Diqing(Shangri-La)


Praised as a dreamy and beautiful place, Yunnan Province of China has been described as the "heaven south of the clouds". City of Eternal Spring-Kunming, Historical Jianshui and Dali, Legendary Lijiang... Both you and your camera will fell in love with this beautiful place-Yunnan!
Tour Code: CPT04
Duration: 13 Days
Destination: Beijing, Pingyao, Taiyuan, Xi'an, Shanghai


Pingyao, one of the ancient city that are well preserved, is known for its historical culture as well as Lijiang of Yunnan. In Pingyao you will be immerged in the old sights, e.g. Ancient City Wall, Rishengchang Draft Bank, Ming and Qing Street, etc. And the best amazing highlights in China, including Temple of Heaven, Forbidden City, Great Wall, Terra Cotta Warriors and Horses, Yuyuan Garden,the Bund… will be included within this tour for your remarkable photographing...
Tour Code: CPT05
Duration: 5 Days
Destination: Zhangjiajie, Fenghuang


With a history of about 1316 years, Fenghuang (Chinese for phoenix), a small city under the jurisdiction of the Tujia Autonomous Prefecture of Hunan Province, is surrounded by mountains and girdled by the Tuojiang River. This small, quiet city is famous for its beautiful landscape, and as birthplace of several celebrated Chinese personages. And Zhangjiajie, a rising tourist city famous for its unique natural scenery and abundant tourism resource, was listed into the World Natural Heritage Catalogue by the UNESCO in 1992. What's more, Zhangjiajie was awarded the title of "World Geological Park" in 2004. Exploring in these two ancient and picturesque cities, you will find that there is so much to collect and your camera would never get free...
Show More China Photography Tours
Custom Tailoring: Design your own tour with our help to meet your unique interests. You don't have to compromise. Do exactly what you want to do! Let us assist you to tailor-make your own China experience.
Search China Tours
What Our Customers Say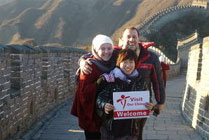 In a nutshell, you did a great job, a fantastic job! We are truly glad that we chose you to make all the arrangements for our Chengdu Xi'an trips. You did not disappoint; indeed, you surpassed our expectations. Bravo, Gina! Truly well done! For more detailed thoughts, you'd need to give me a lit...
Read more testimonials...