China Train Tours
China has one of the biggest and busiest rail systems on Earth. Almost every city and town is linked via rail. A China train tour adds a wonderful dimension to a visit to China. Train travel in China is safe, comfortable, and far more affordable than flying. Granted traveling by train is slower than flying, but there is nothing like relaxing in your train birth, watching China pass by your window. China also has many High-speed trains between its most popular destinations, including the Tibet-Qinghai railway, which is an incredible experience.
Tour Code: CTT01
Duration: 8 Days
Destination: Beijing, Shanghai

This wonderful tour takes you to two of China's most popular destinations; Beijing and Shanghai, and you travel between these two cities via an overnight soft sleeper train. Train travel is a wonderful experience, and a great way to save money on a China tour. You will begin in Beijing, China's capital for centuries, where you will see the Imperial splendor of many world famous sites. You will then travel to Shanghai. Shanghai is an incredible city which blends Chinese and Western culture.
Tour Code: CTT02
Duration: 9 Days
Destination: Beijing, Xi'an, Shanghai

China's Golden Triangle refers to the three cities of Beijing, Xian, and Shanghai, which when connected, form a triangle. These are China's most famous cities, and for good reason. Each one is totally unique, and has so much to offer visitors. You will travel between these cities with overnight soft sleeper trains. It is a wonderful experience to travel by train in China. During the day, you will see some of the most famous sites on Earth.
Tour Code: CTT03
Duration: 16 Days
Destination: Beijing, Datong, Wutai Mountain, Zhengzhou, Luoyang, Xi'an, Shanghai

This China tour is truly special. It takes you to China's most famous sites, along with some lesser-known treasures, and all traveling between destinations will be done by soft sleeper trains. You will visit sites such as The Forbidden City in Beijing, the Terracotta Warriors in Xian, the Yungang Grottoes in Datong, the Shaolin Temple in Luoyang, and so much more.
Tour Code: CTT05
Duration: 11 Days
Destination: Beijing, Xi'an, Chongqing, Yangtze Cruise, Yichang, Shanghai

Traveling by train through China is a wonderful experience. It is a relaxing way to see some of the most exciting sites on Earth. This tour will take you though China, and its highlight is a cruise down the Yangtze River on a luxurious Yangtze River cruise ship. This China train tour will take you to some of the best destinations China has to offer and you will experience China and its culture in a way few other visitors will.
Tour Code: CTT06
Duration: 9 Days
Destination: Shanghai, Suzhou, Hangzhou, Nanjing

Suzhou is home to China's traditional gardens. Each one is unique, and is an artistic representation of nature. They are beautiful and a new surprise waits around every corner. Suzhou is just one of the many destinations in this China train tour. On this tour you will visit ancient sites, modern cities, and West Lake, home to some of China's most famous legends. This tour is a wonderful one, and one that is truly special.
Show More China Train Tours
Custom Tailoring: Design your own tour with our help to meet your unique interests. You don't have to compromise. Do exactly what you want to do! Let us assist you to tailor-make your own China experience.
Search China Tours
What Our Customers Say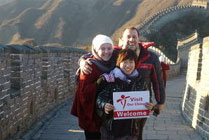 In a nutshell, you did a great job, a fantastic job! We are truly glad that we chose you to make all the arrangements for our Chengdu Xi'an trips. You did not disappoint; indeed, you surpassed our expectations. Bravo, Gina! Truly well done! For more detailed thoughts, you'd need to give me a lit...
Read more testimonials...