Ethnic Minority Tours
China is a unified nation consisting of many different ethnic groups. Fifty-six different ethnic groups make up the great Chinese national family. Explore Yunnan Provence to see the Dai, Miao and Yao, or Guizhou Provence to see the beauty of the Dong or Buyi. Find the special culture of the largest ethnic group in China, the Zhuang in Guilin.
Tour Code: EMT01
Duration: 10 Days
Destination: Guangzhou, Guilin, Yangshuo, Kunming, Dali, Lijiang

This wonderful China tour focuses on the colorful traditions of some of China's Ethnic Minority Groups. You will see the Bai People of Dali, the Naxi people of Lijiang and witness first-hand, how these people have lived for centuries. You will also visit the incredible scenery of Guilin and Yangshuo, as well as the ancient past, and vibrant present of Guangzhou. This tour offers something truly special and like all of our China tours is completely customizable to meet your every need.
Tour Code: EMT02
Duration: 10 Days
Destination: Hong Kong, Kunming, Dali, Lijiang, Diqing(Shangri-La)

Yunnan Province is home to some of China's most interesting Minority Groups. In Dali, Lijiang, and Shangri-la, you will witness their ancient traditions. Each Chinese Minority Group has its own unique traditions, history, cuisine, clothing, and much more. To walk amongst the ancient towns and villages of these groups is an incredible experience. You will see first-hand, the ancient cultures of these groups. In Hong Kong, one of the most beautiful cities on Earth, you will feel its vibrant life, and ancient past.
Tour Code: EMT03
Duration: 13 Days
Destination: Beijing, Xi'an, Dunhuang, Turpan, Urumqi, Shanghai

Discover the people, history, and cultures of China's Ancient Silk Road on this incredible China tour. You will begin in Beijing and then travel to Xian, to follow the Ancient Silk Road through Dunhuang, Turpan, and Urumqi. The Ethnic peoples and their cultures in these cities are incredibly beautiful and vibrant. The cultures in these cities are so unlike what one would expect to find in China and this tour is filled with surprises.
Tour Code: EMT04
Duration: 12 Days
Destination: Beijing, Kunming, Dali, Lijiang, Guiyang, Anshun

Explore the huge contrast in culture of the different Chinese Ethnic Minority Groups with this wonderful tour of China. You will begin in Beijing, China's capital for over 500 years, where you will experience the Imperial splendor of the Ming and Qing Dynasties. After Beijing, you will travel south to visit some of China's most unique Ethnic Minority Groups. Each group's cultures and traditions are completely different from each other and you will get to witness them first-hand.
Tour Code: EMT05
Duration: 13 Days
Destination: Beijing, Xi'an, Guilin, Yangshuo, Kunming, Lijiang

This tour of China showcases some of the best that can be found in China. You will visit Beijing, China's capital, and see the incredible sites with are famous throughout the world. You will then visit Xian, China's capital for over 10 different dynasties, where you will see the Terracotta Warriors. You will then visit Guilin and Yangshuo, famed for their incredible scenery. You will then head to Yunnan Province, where you will see the Bai and Naxi Dongba Ethnic Minority Groups in the ancient towns of Dali and Lijiang.
Tour Code: EMT06
Duration: 8 Days
Destination: Shanghai, Kunming, Lijiang

Beginning in Shanghai, China's most famous cosmopolitan metropolis, this China tour will take you across China and allow you to experience one of its most incredible Ethnic Minority Groups. In Shanghai, you will experience the beautiful blending of Chinese and Western culture and history that make this city so exciting. In the ancient town of Lijiang, you will witness the Naxi Dongba Ethnic Minority Group. The Naxi people's written language is the only hieroglyphic text still in use anywhere in the world. Their traditions and cuisine make them a favorite with visitors.
Show More Ethnic Minority Tours
Custom Tailoring: Design your own tour with our help to meet your unique interests. You don't have to compromise. Do exactly what you want to do! Let us assist you to tailor-make your own China experience.
Search China Tours
What Our Customers Say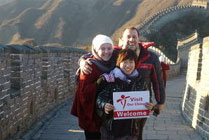 Natasha and I wanted to write to you to say how much we enjoyed our time in Beijing with Tony and the Visit Our China company. Tony was a wonderful tour guide and host > friendly, knowledgeable, flexible, funny and warm. You certainly have an excellent asset with him! Many thanks also for your...
Read more testimonials...