Special Tours
We offer a variety special tours including: Honeymoon Tours; Bicycle Tours; Camping Tours; Golf Tours; Rock climbing Tours; Photography Tours; Chinese Martial Arts Tours; Treking Tours.
Tour Code: ST01
Duration: 10 Days
Destination: Beijing, Xi'an, Guilin, Yangshuo, Hong Kong

See the Bold Dreams of China's Ancient Emperors at incredible Forbidden City and Great Wall and the amazing Entombed Warriors. You will also experience the awesome beauty of Guilin's Li River and Hong Kong –The Pearl of the Orient.
Tour Code: ST02
Duration: 11 Days
Destination: Hong Kong, Sanya, Guilin, Yangshuo, Kunming, Lijiang

Super Enjoyable!! Shopping in "the Pearl of the Orient"-Hong Kong, relaxing in "Best Seashore"-Sanya, seeing the most beautiful city-Guilin, walking around the most attractive town-Lijiang, this is your real honeymoon trip.
Tour Code: ST03
Duration: 8 Days
Destination: Guilin, Kunming, Lijiang


Are you interested in playing golf? This is the best choice, definitely makes you impressed.
Tour Code: CST01
Duration: 5 Days
Destination: Beijing, Nanshan


Beijing is an incredible destination and it is even more beautiful in winter. This 5 day ski tour highlights the best Beijing has to offer as well as skiing and winter sports in some of the best winter resorts in Asia. We hand-select all of the ski resorts, hotels, sites, restaurants and vehicles we use to ensure the best China tours available.
Tour Code: CST02
Duration: 6 Days
Destination: Harbin, Yabuli


The Northern city of Harbin is famous for its winter festival and is a haven to lovers of winter sports. Harbin is home to some of the best ski resorts in Asia and our ski tours take advantage of the best Harbin has to offer. This ski tour will take you to the Yabuli International Ski Resort, the largest ski resort in China. You will also see the Ice and Snow Festival.
Custom Tailoring: Design your own tour with our help to meet your unique interests. You don't have to compromise. Do exactly what you want to do! Let us assist you to tailor-make your own China experience.
Search China Tours
What Our Customers Say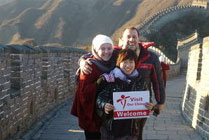 In a nutshell, you did a great job, a fantastic job! We are truly glad that we chose you to make all the arrangements for our Chengdu Xi'an trips. You did not disappoint; indeed, you surpassed our expectations. Bravo, Gina! Truly well done! For more detailed thoughts, you'd need to give me a lit...
Read more testimonials...